Otoplasty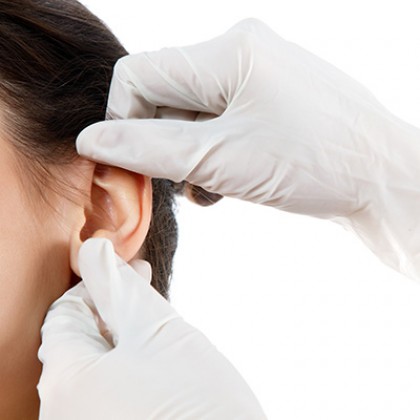 What is otoplasty?
Deformation of auricles is the reason of numerous complexes and lack of self-confidence both for men and women. Worst consequences such defect has at children's age, leaving serious psychological trauma. Thanks to otoplasty it is possible to change a shape of auricles, and also restore them in case of various deformations (congenital or acquired). Otoplasty will allow to get rid of a serious aesthetic shortcoming and gain self-confidence.
Surgical principle:
Modeling of auricle cartilage and cutting of excess skin behind ears is done to correct protruding ears. Restoration of the auricle is a much more difficult operation which is done in several steps for 10-12 months, starting from implantation and finishing with a formation of a new ear. At the request of the patient, it is possible to change auricle shape and size.
Anesthesia:
Local anesthesia, but at the request of the patient general anesthesia is possible (for example for children)
Operation duration:
One hour
Hospitalization duration:
As an outpatient
Complications:
Headache, morbidity, and reddening of auricles.
Possible risks:
Hematoma, recurrence, infections.
Before the operation:
Before the operation, you will need to visit at least two consultations. During the first consultation, you will be able to ask the surgeon any questions interesting you and receive the detailed estimate of a preliminary intervention. If you decide to be operated, then this estimate must be signed before the second consultation. The signed estimate is your knowing and intelligent consent for the surgery. (it's mandatory under French law). Nevertheless, for the patients who come to do the operation from other countries, we will organize formalities from a distance on the Internet or by mail. Also during the second consultation, such things as anesthesia, preoperative tests, and desired result will be discussed.
After the operation:
Doctor Durand will monitor your health until your release from the hospital. The first post-operational consultation is carried out one week after the operation. During this consultation, Doctor Durand together with the nurse will evaluate healing of sutures and general recovery. The second post-operational consultation is carried out one month after the operation. During the second consultation, the first results will be evaluated.
Price:
The total cost of the operation consists of the following items: surgeon's fee, anesthesia, VAT, clinic.
From 1500 euros