Gynecomastia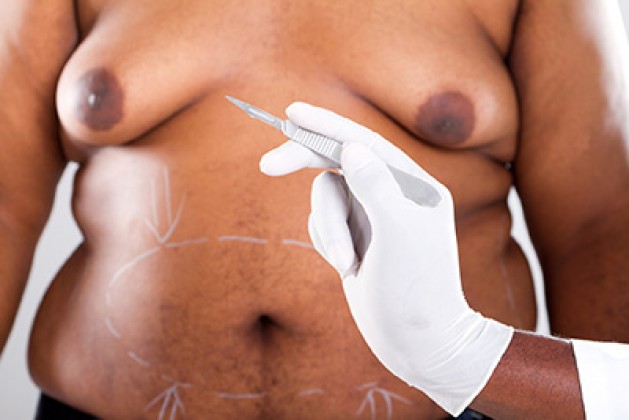 What is gynecomastia?
Gynecomastia is a disease which doesn't threaten man's life, however, it is among the group of illnesses that can considerably spoil the life of every man. The enlarged mammary glands have to be carefully hidden, and in summer there is always a problem of going to the beach. There are two types of gynecomastia, the first one is false and it's the reason of massive fat deposits while the true gynecomastia is the result of predominance of female hormones in an organism of a man.
What to do?
The plastic surgery perfectly copes with such problems. It is possible to do breast liposuction and considerably reduce breast in size, and it is possible to remove a part of a gland through small cuts in the field of an areola. Cuts after the operation are almost imperceptible.
Anesthesia:
General anesthesia
Operation duration:
1 hour
Hospitalization duration:
As an outpatient in case of liposuction; for several days in case of breast reduction.
Complications after the operation:
Hematomas, muscle pain, reduced sensitivity of an areola,  sutures.
Possible risks:
Concentration of a lymph, infections.
Before the operation:
Before the operation, you will need to visit at least two consultations. During the first consultation, you will be able to ask the surgeon any questions interesting you and receive the detailed estimate of a preliminary intervention. If you decide to be operated, then this estimate must be signed before the second consultation. The signed estimate is your knowing and intelligent consent for the surgery. (it's mandatory under French law). Nevertheless, for the patients who come to do the operation from other countries, we will organize formalities from a distance on the Internet or by mail. Also during the second consultation, such things as anesthesia, preoperative tests, and desired result will be discussed.
After the operation:
Doctor Durand will monitor your health until your release from the hospital. The first post-operational consultation is carried out one week after the operation. During this consultation, Doctor Durand together with the nurse will evaluate healing of sutures and general recovery. The second post-operational consultation is carried out one month after the operation. During the second consultation, the first results will be evaluated.
Price:
1500 euros