Reduction mammoplasty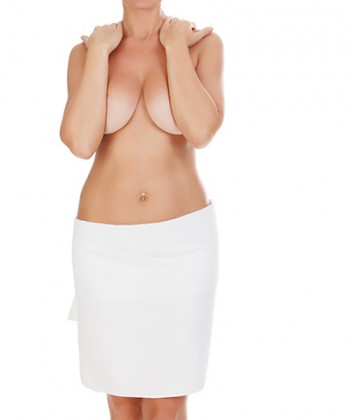 What is reduction mammoplasty?
Reduction mammoplasty is an operation on breast reduction. This operation is definitely less popular than augmentation mammoplasty. Nevertheless, there are enough women that need to decrease their breast. Large breast is troublesome, ranging from back pain to trouble sleeping and if the mammary gland exceeds the mass of 0,5 kg, then the risk of developing of the number of diseases is increasing. Aesthetically, too big breast seldom keeps the shape and worsens a general view of a figure.
Surgical principle of the operation and its result:
The cut around an areola and upright down from the areola to a skin fold under the breast is most widespread. The operation is in removing excess parts of mammary glands and skin with a further adjusting of the cut. During the operation, the notable amount of tissues including ducts of mammary glands is removed. Reduction mammoplasty makes a silhouette thinner and more graceful, allows to forget about the back pain and trouble sleeping.
Anesthesia:
General anesthesia
Operation duration:
From 1.30 to 2 hours
Hospitalization duration:
From 1 to 2 days
Complications:
Visibility of sutures (it is one of the reasons to choose a good surgeon what will make sutures extremely accurate and hardly noticeable), change of sensitivity of an areola, breastfeeding is impossible in the majority of cases.
Possible risks:
Infections, hematomas, necrosis, subsidence of a structure.
Before the operation:
Before the operation, you will need to visit at least two consultations. During the first consultation, you will be able to ask the surgeon any questions interesting you and receive the detailed estimate of a preliminary intervention. If you decide to be operated, then this estimate must be signed before the second consultation. The signed estimate is your knowing and intelligent consent for the surgery. (it's mandatory under French law). Nevertheless, for the patients who come to do the operation from other countries, we will organize formalities from a distance on the Internet or by mail. Also during the second consultation, such things as anesthesia, preoperative tests, and desired result will be discussed.
After the operation:
Doctor Durand will monitor your health until your release from the hospital. The first post-operational consultation is carried out one week after the operation. During this consultation, Doctor Durand together with the nurse will evaluate healing of sutures and general recovery. The second post-operational consultation is carried out one month after the operation. During the second consultation, the first results will be evaluated.
Price:
3000 euros