Blepharoplasty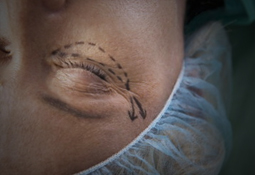 Principle of action:
Blepharoplasty is a complex of surgical manipulations on the elimination of age changes in the area of the upper or lower eyelids. Removal of excess skin and fat deposits can correct sagging of lateral edge of an upper eyelid and deformation of a lower eyelid.
The expected result:
Blepharoplasty will help to fix esthetic problems with eyes, open a look and essentially rejuvenate appearance. Also, this operation helps to get rid of bags under eyes and heavy eyelids without changing eye shape.
Anesthesia:
Local or general anesthesia
Operation duration:
From 30 minutes to 2 hours
Hospitalization:
As an outpatient
Complications:
Edemas, subdermal hematoma, lachrymation
Possible risks:
Retrobulbar hematoma and reversion of a lower eyelid, dystrophic  sutures
Price:
From 1000 euros